Spring Has Sprung in Pirate Nation
Spring is an extremely exciting time here at East Carolina University. The weather is gorgeous, everyone starts to live outside on the Mall, activities are popping up everywhere, and there are constant new faces touring our beautiful campus. Whether you are a current or prospective student, spring semester has countless opportunities everyone can enjoy!
Take a walk on the Greenway
The Greenway is one of ECU's hidden treasures not enough people take advantage of! The path stretches for miles along the scenic Tar River and around the university area. It's the perfect place to take a walk or bike ride and includes an amphitheater, dog park and more!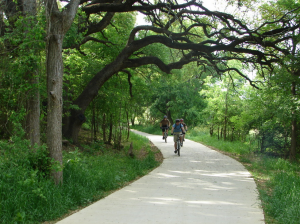 Barefoot on the Mall
Barefoot on the Mall is a time-honored tradition here at ECU. This has been an annual event at ECU for the past 40 years and it just keeps getting better! Located on the Mall, right in the center of campus, Barefoot offers food trucks, games, prizes and a concert featuring a different headlining artist every year! Last year it was Jesse McCartney and this year we will be welcoming T-Pain!

PirateFest
PirateFest is a blast for all ages. The Pirate-themed festival has taken place every year for the past decade. The event is located in Uptown Greenville, just a two-minute walk from campus, taking over eight city blocks! There is always tons of local street food venders, costumed pirates, a carnival, fine arts for sale and a free concert at the Town Common Amphitheater.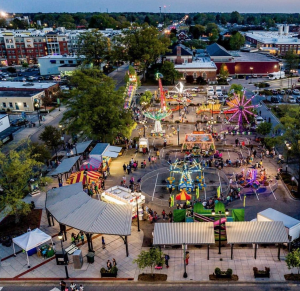 Pack Clark-LeClair Stadium for ECU Baseball
Both students and ECU fans love to catch as many ECU Baseball games as they can, and for good reason! Games are filled with fans grilling up delicious food, enjoying the weather and watching the Pirates kick some serious booty!
These are just a handful of activities both students and families can enjoy in this lively city ECU calls home! If that's not enough, here are a couple other activities that are my personal favorites.
Sitting outside and grabbing lunch at Sup Dogs. Sup Dogs was just voted the #1 bar in America by Barstool Sports! The restaurant also hosts a concert every spring called DoggieJams.
Take a stroll down Dickinson Ave, located near Uptown Greenville. Dickinson Ave is an up and coming area of Greenville! The area includes brand new off campus luxury apartments, delicious food like Smash Waffles and Jack Brown's Beer and Burger Joint, and an indoor hatchet-throwing range!
The amphitheater, located on the Greenway, is always holding activities such as live music, outdoor yoga and movies in the park!