New Student Orientation
This summer, more than 4,300 first-year students and their families will begin their journey as members of Pirate Nation with a visit to East Carolina University's new student orientation sessions.
Ten sessions lasting a day and a half each are spread through the months of June and July. These visits are a chance for students to become familiar with campus and meet other members of the incoming class while preparing them for their first year of college.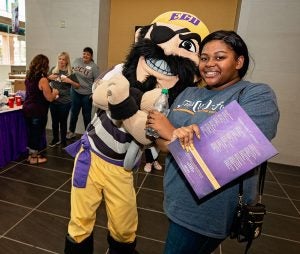 PeeDee pays a visit to new student orientation.
To guide them through their adventures, 27 orientation assistants (OAs) are assigned to student groups of less than 30 people. OAs are ECU students who spend their days facilitating small group sessions and guiding new Pirates around campus. They are a treasure trove of information and work hard to make sure students and families leave orientation with the information they need and are excited about returning in August for the start of the fall semester.
The process to become an OA is very competitive and those selected represent several majors across campus. Second-year OA Sarah Pearce said the experience she had with her OA as a freshman got her really excited about ECU. She wants to do the same for others.
"My favorite part about being an orientation assistant is the impact I have on my students," said Pearce who intends to major in nursing.
In addition to one-on-one time with their OAs, attendees have the opportunity to stay in a residence hall, eat in a dining hall, meet with an advisor to register for fall classes and attend several informational sessions. The orientation sessions provide guidance from faculty, staff and other students about the expectations of college academics and making good choices once they are away from home.
Journee McLeod, from Fayetteville, attended the second orientation session. She hoped to get a better feel for her way around campus and a glimpse of the dorm she will live in this fall while attending orientation. She plans to major in biology and be a part of the Air Force ROTC program on campus.
"I decided to come to ECU after attending a field trip with my high school. I felt welcomed and really liked the people I met, and I felt safe," said McLeod.
Incoming freshman Blake Mizelle is from Greenville and his mother works for ECU, so he has been exposed to the campus most of his life. During his time in high school he thought leaving town for college would be the direction he would go, until he attended ECU's Admitted Student Day in March.
"I came and felt at home. I knew this is where I needed to be," said Mizelle.
Orientation assistants give students a taste of college life while making it fun for parents and their children. They are introduced to ECU traditions like the alma mater, no quarter flag raising, and the purple and gold chant during opening session.
"Before day one ends, parents and students can enjoy a long standing and popular tradition at orientation – the hypnotist show – and other activities in Mendenhall." said Mary Beth Corbin, executive director, Office of Student Transitions. "We have dessert receptions for students and their family who are military dependents, from out-of-state, first generation or Spanish speaking."
Sessions for the class of 2023 look a little different than orientation sessions for previous students. The opening of the new Main Campus Student Center in January has provided a beautiful new space for the welcome event and informational sessions and parking is more convenient. Organizers also reduced the sessions from two full days to a day and a half.
For information on how to sign up for new student or transfer student orientation sessions visit https://orientation.ecu.edu/.


Orientation assistants lead new students in the purple and gold chant during orientation.