ECU Recognized for Diversity and Inclusion
For the seventh consecutive year, East Carolina University has been recognized for its commitment to diversity and inclusiveness by receiving the Higher Education Excellence in Diversity (HEED) award.
The HEED award is sponsored by Insight into Diversity magazine and recognizes colleges and universities in the U.S. that demonstrate an outstanding commitment to diversity and inclusion. The 2018 award winners were selected for initiatives that focus on all aspects of diversity including gender, race, ethnicity, veterans, people with disabilities and members of the LGBTQ community.
"Receiving this award for the seventh consecutive year recognizes the continuing efforts and successes of our collective work around diversity and inclusion," said LaKesha Forbes, associate provost for Equity and Diversity. "We strive to maintain an increasingly diverse and welcoming environment for our faculty, staff and students. Diversity is strength and inclusion leads to excellence, and we are strong in our endeavor toward excellence."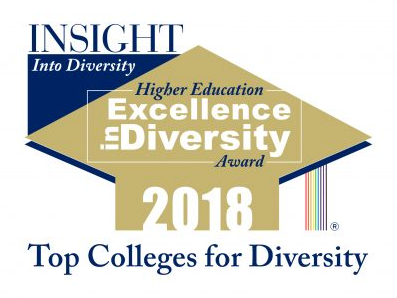 ECU is one of six institutions in the UNC system to receive the 2018 HEED award.
"At ECU we are dedicated to being a community that is reflective of a globally diverse workplace for students and employees. I am proud that we are once again being recognized for our commitment to build an inclusive community where we value our differences," said ECU Chancellor Cecil Staton.
Several groups and programs specifically address diversity and inclusion at ECU, and three of these programs were included in ECU's 2018 application for the HEED award. The following programs highlight opportunities available for students and employees to promote inclusiveness through research, education and outreach:
Diversity and Inclusion Research and Scholarship (DIRS) Program
The DIRS Program is a faculty development and seed grant program that provides funds to departments with faculty who engage in research projects related to diversity, equity, inclusion and/or cultural competence. Faculty members may apply for financial assistance for either diversity-related research expenses and/or reassignment from teaching assignments for up to one academic year.
Multicultural Appreciation Day Experience (MADE)
In collaboration with Undergraduate Admissions, MADE at ECU gives current high school students an opportunity to see how they can benefit from an exceptional education and wonderful social experience at ECU. It offers high school students the chance to meet with current ECU students and faculty, learn how to apply and pay for their education, explore scholarship opportunities and learn about the many different majors offered at ECU.
Valuing Inclusion Program (VIP)
VIP provides educational opportunities for open dialogue of beliefs and values and to develop skills to create an inclusive community at ECU. This program promotes an inclusive and respectful working, living and learning environment. It brings awareness to the experiences of people with intersecting marginalized identities and aids in developing skills to effect positive change and promote inclusivity.
"The HEED Award process consists of a comprehensive and rigorous application that includes questions relating to the recruitment and retention of students and employees — and best practices for both — continued leadership support for diversity, and other aspects of campus diversity and inclusion," said Lenore Pearlstein, publisher of Insight into Diversity magazine. "We take a detailed approach to reviewing each application in deciding who will be named a HEED Award recipient. Our standards are high, and we look for institutions where diversity and inclusion are woven into the work being accomplished every day across their campus."
ECU will be featured along with the 95 other recipients in the November issue of Insight into Diversity magazine.