ECU Football Game Day Traditions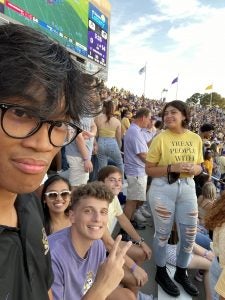 Hello everyone! My name is Jethro Libutan and I am a freshman here at East Carolina University. One of my favorite things about East Carolina University is college football game days! From the tailgating outside Dowdy-Ficklen Stadium to the chanting of ECU's famous Purple-Gold chant thereare numerous game day traditions that make ECU Football games one of the best atmospheres in college football. Here are some of my favorite game day traditions to look out for at ECU's next home football game that you for sure are not going to want to miss!
Tailgating
On game days, the celebration starts hours before kickoff. For years, fans have packed tailgating lots around campus, with some fans setting up as early as 7 a.m. Not only do tailgates fill up across campus, but Pirate fans also take advantage of the amazing restaurants, bars, and shops around downtown Greenville that make for an exquisite game day experience.
Purple Haze
One of the most distinguishable entrances in college football is when the Pirates storm Dowdy-Ficklen's football field to Jimi Hendrix's classic tune through purple smoke right before every home football game!
Purple-Gold Chant
Every Football team has their own chants that are shouted by fans in their home football stadiums. At Dowdy-Ficklen, one of these chants includes ECU's school colors: Purple and Gold. The chant is used to hype up fans on their way to the football stadium, right before the ECU football team enters the stadium, and hype up the crowd throughout ECU's football games just to name a few occasions. Whenever you hear someone cheer "Purple!" you respond by cheering "Gold!" right back at them!
First Down…Pirates!
After every ECU first down, the announcer Morgan Ahlers announces, "Where it is a first down…," letting the crowd say "Pirates!" before Ahlers follows with a "Pirates!" of his own. According to 247sports.com, the cheer is "simple, but effective, and always a sight to behold."
No Quarter
Beginning in 2007, the Pirates adopted new flag raising ceremonies at football games.  At the end of the third quarter in ECU home football games, the Pirates raise the "No Quarter" flag to start the fourth quarter of ECU home football games. The raising of the flag is accompanied with thrilling music and fans are encouraged to cheer loud, stomp your feet, and show the opposing team that the Pirates will give NO QUARTER! 
These are just some of my favorite ECU Football Game Day traditions to look out for at our next home ECU Football game, where the Pirates take on Cincinnati on November 26! You won't want to miss it!