Lyndsey Turner,
Regional Counselor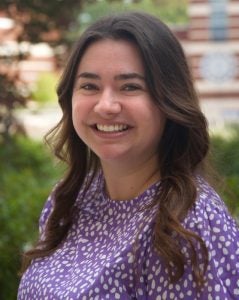 Schedule Appointment
turnerl22@ecu.edu
(252) 737-4351
High Schools Served
Cardinal Gibbons High School
East Wake Academy
East Wake High School
Faith Assembly Christian Academy
Franklin Academy
Friendship Christian School
Heritage High School
Knightdale High School
Leesville Road High School
Millbrook High School
Neuse Christian Academy
North Raleigh Christian Academy
North Wake College and Career Academy
Orange High School
Raleigh Charter High School
Ravenscroft School
Rolesville High School
Saint Mary's School
Sanderson High School
St. David's School
St. Thomas More Academy
Thales Academy - Rolesville
Trinity Academy of Raleigh
Vance Charter Academy
Wake Early College of Health and Sciences
Wake Forest High School
Wake Prep Academy
Wakefield High School
William G. Enloe High School
Word of God Christian Academy
Northern Wake County has a great advocate for education from this regional counselor from New Hampshire. Lyndsey Turner said, "I always wanted to work in higher education because I love making connections with student and parents to help them meet their goals." With a bachelor's degree in psychology and a graduate certificate in behavior health, Lyndsey knows how to reach people with the best counseling advice.
On the weekends Lyndsey cheers on the Pirates. She loves football and has enjoyed playing softball in college. Golden retrievers, Rosie and Magnum, keep her busy going to parks and on car rides!
Pronouns: She/Her/Hers