6 Ways to Make the Most Out of Pirates Aboard
Wondering how to make the most out of your visit to ECU during Pirates Aboard Admitted Student Day? Take a look at these 6 simple tips to make sure your day at Pirates Aboard prepares you for a successful transition to East Carolina University!
1. Plan Your Day Ahead of Time
There will be a lot to see and do at Pirates Aboard, so we encourage you to plan out the sessions and events you want to be sure to attend ahead of time. The best way to do that is with the Pirates Aboard planning guide available in the East Carolina University Guide app (free for both iOS and Android). The guide includes the ability to personalize your schedule, view event details and campus maps, and more.
Download the Pirates Aboard: Purple Planning Guide (8:30-2:30) >
Download the Pirates Aboard: Gold Planning Guide (10:30-4:30) >
Or if you prefer an abbreviated PDF, download the Purple agenda or the Gold agenda.
2. Take a Tour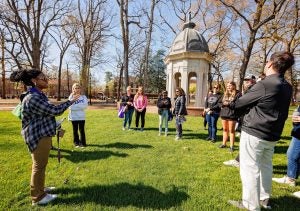 Explore the beautiful campus of East Carolina University without the pressure that rushingaround on the first week of classes may bring. Take a look at the multiple residence halls and get a feel for your preferred neighborhood. Do you value being within walking distance of our state-of-the-art Eakin Student Recreation Center? West End might be ideal for you. Is a short walk to class your highest priority? Central Campus is for you! Do you simply value a delicious coffee and breakfast sandwich each morning from Port City Java? The College Hill neighborhood has just that for you.
3. Get to Know Your Intended Major
The academic fair at Pirates Abroad is your one-stop-shop for all things academia. Whether you know your field of study yet or not, learn about all the degrees and majors ECU offers and you might just pick up a minor while you're at it! Academic sessions will also be offered where you can talk directly with professors and faculty here on campus, as well as ask questions. With over 87 bachelor's degrees and eight colleges to choose from, ECU is the premier choice for your higher education journey. Information sessions will also be offered at Pirates Aboard. These will seek to ease all your worries in relation to advising, orientation, housing, financial aid, transfer students, and much more. We are here for you, and answering all your questions is our priority!
4. Get to Know Your Fellow Pirates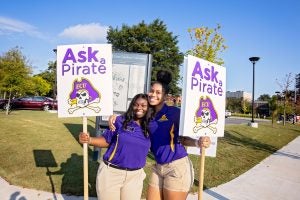 There are hundreds of students around you at Pirates Aboard who also might be unsure where to go or what to do – make friends! Now more than ever is the chance to start forming bonds. Find common interests and you might just meet your new roommate. Discuss hobbies or intended majors and you might meet a friend or two to sit next to in class. Talk to your tour guide or other students on campus and find out what life looks like at ECU from someone who experiences it every day!
5. Check Out the Student Life Fair
ECU has a multitude of clubs and organizations for students to engage in. Have a leg up by getting to know them all prior to stepping foot on campus as a student. No matter your passion – whether it's philanthropy, Greek life, college ministry, sustainability, health, cultural groups, sports, dance, or a cappella – there's always a home for you here! Talk to representatives from tons of student groups at ECU at the Pirates Aboard's Student Life Fair and you might just find your niche.
6. Explore Greenville
After Pirates Aboard, or during the lunch break, venture into the surrounding city to get a feel for all things G-ville! Pop around the city to one of the many wonderful parks and trails to get some fresh air. Walk alongside the tar river at Town Common Park and admire the locks along the fence. Need a bite to eat? Give Nash Chicken (writer's favorite) or King's Deli a shot if you are wanting to stay close to campus. Already had lunch in the dining hall? Go grab a coffee at Blackbeard Coffee Roasters or a miniature donut from Over the Top Sweet Shop. Not hungry or thirsty? Get some light shopping done at Catalog Connection or University Book Exchange to start your Pirate gear collection early. Visit https://www.greenvillenc.gov/our-city/things-to-do-in-greenville or https://www.visitgreenvillenc.com/restaurants/ for more options.